PHURAHONG HOMESTAY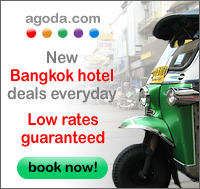 We chose to stay at Phurahong Homestay in Bangkok for the following reasons.
1. Phurahong Homestay is located just seven miles from the Don Muang Airport (DMK). Since we were flying to Krabi from Don Muang Airport (DMK) early the following morning, we decided that staying in a hotel just outside of Don Muang Airport would be our best bet.
2. It was the only budget hotel near the airport that had above average reviews.
3. It was cheap at $23/night for a private room w/ breakfast included.
GETTING TO PHURAHONG HOMESTAY
If you take a taxi from the main taxi stand at Don Muang Airport, be ready to pay a 50 THB surcharge on top of the final metered rate. We grabbed a taxi and after we told the driver where we wanted to go he decided he didn't want to drive us to our hotel because "it was too far". Seven miles from the airport is too far? Seriously?
He proceeded to tell us that he could run the meter inside of the airport but it would turn off after we left the airport. I asked him how much it would cost to get us to our hotel and he replied "350 baht". I instantly told him to stop the car and let us out. There was no way we were paying 350 baht for a 100-150 baht taxi ride.
We hopped out, grabbed our bags and flagged down another taxi which took us to our destination using the meter. Although, this ride didn't go perfectly smooth either.
Our taxi driver had some issues finding our place and then decided to pull over and act like he was trying to dial the number when I could clearly see him typing in the number and then erasing it over and over and over. One thing you must do when dealing with taxi drivers just about anywhere in the world is to be stern with them if you feel they're trying to take advantage of you. If you don't speak up, you're going to get burned.
After watching him type and erase the number a few times I said, are you going to call or would you like me to do it for you? I pointed at the meter and made a rolling movement with my hand in order to let him know that I'm watching the meter go up as he's fiddling with his phone on the side of the road. After I pointed that out he pulled over and asked someone where the hotel was. Turns out we were literally just around the corner from Phurahong Homestay. Coincidence? I think not.
Note: Most taxi drivers have issues finding Phurahong Homestay. Be sure to print out your reservation and have it handy to show to the driver (if possible). If not, have the phone number for Phurahong Homestay on hand (+66 2 973 8638) so that your driver can call them and find out where they're located.
THE ROOMS AT PHURAHONG HOMESTAY
The room itself was really small but what more could you ask for when you're looking for a place to crash for the night while in transit? There's no other reason to stay here other than to hop on a flight from Don Muang Airport as it's way outside of downtown Bangkok. For the price and the convenience factor of this place, it's an absolute gem.
There were a few temples nearby that we didn't get a chance to visit. They sure looked appealing from our window though.
THE SERVICE AT PHURAHONG HOMESTAY
The reviews about the service at Phurahong Homestay were spot on. The customer service is excellent to say the least. Check in was a breeze and the owner was awake at 4AM the following morning to make sure we got our free breakfast before taking off to the airport.
AMENITIES:
On-site Restaurant
Free Wi-Fi
Laundry
Parking
Overall, I believe that Phurahong Homestay is one of the best values for your money. It's nothing spectacular. It's simply everything you could want in a budget hotel located twenty minutes from Don Muang Airport.
SEE ALL OF OUR ACCOMMODATION REVIEWS